AGED WOOD INFLUENCES VIOLIN
The violin is the most wonderful of all instruments. Its gorgeous melody is not easy to describe. The reason for this is its tone like human sounds. In the seventeenth and eighteenth centuries, violin makers made very high quality violins in Europe, especially in Italy. Nowadays, these violins have become art treasures.
A good violin has very challenging craftsmanship as well as nice color. The tone is the highest priority. People will accept minor damage as well as scratches and missing varnish. Today, they want the artistic attributes of the violin, but will never endure ugly tone. The famous violin makers: Amati, Antonio Stradivari, and Guarneri Dol Gesu had angelic violin craftsmanship. Their violins have quick responses, wonderful tonal balances, warm, rich, brilliant timbre, and very good delivery of sound. In order to find the secret of their violins, people open most of the famous violins. The result is very confusing and disappointing, because the shapes, curves, and thickness are totally different.

The violin makes sound by resonance, and is influenced by shape, size, curve, thickness, F hole, bass bar, sound post, etc. Violin makers are very concern with these factors. However, there are two factors that people don't care enough about, or can't do anything about. For these reasons, these factors influence the tone of a violin become more important.

The first factor is varnish and ground on the surface of the violin. They engender some tension. We call this surface tension. The second factor is the change in the wood as it ages. The primary component of wood is carbohydrate that forms wood fiber. In addition, other components are resin, mineral, nutrient------and water. The most important factor affecting tone is wood fiber. Wood fiber is like a string in the wood. After years and years, some components of wood disappear, and some new components are formed by physical changes, such as volatilization, and chemical reaction such as oxidation. The wood fiber becomes freer and tighter. Free and tight fiber vibrates easier. That is why an old wood violin is better. Our work in the laboratory is revealing how aging causes changes in the wood, and now we can accelerate this change. We have achieved a great success. If you see and hear our violins, the difference in quality is obvious.

To own a seventeenth century or eighteenth century Italian violin in pristine condition crafted by one of the Cremonese masters would cost a fortune. It is a dream to most people. We can offer you an orchestral quality violin at a reasonable price. Don't rely on brand name. Buy the tone------that is all you need!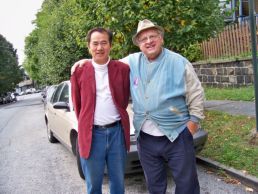 My dearest buddy, Edward Polidi, International Virtuoso:
Play on it! Its soul comes out! Melody is wonderful!
Tone is brilliant! Own it! Enjoy it!